MAS MOSQUE

Dewan Bandaraya Kuala Lumpur (DBKL)

Wisma Hong Leong Property Management
Project Name : MAS Mosque
Original Glass Type : Light Green Tinted Glass
Film Installed : Silver 80 HC
Site : KLIA Sepang
Installation Purpose : 
The Skylight of the mosque was designed with slightly tinted glass panels. However this design structure exposes heat and glare to the praying hall which affects praying sessions.
In order to ensure a more comfortable praying environment, Solar Gard's Silver 80HC film was recommended.
Comment:
In rectifying the situation, Solar Gard has provided the MAS Mosque with an extremely comfortable praying hall.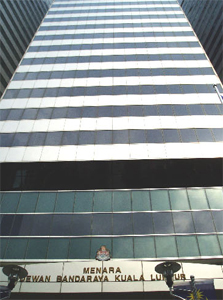 Project Name: Dewan Bandaraya Kuala Lumpur
Original Glass Type : Clear Glass
Film Installed : Solar Gard – GSG 90
Site: Bandar Wawasan, Jalan Abdullah
Installation Purpose : 
The building was designed with flat glass surrounde. As Malaysia's weather is getting hotter, The Management decided to install GSG90 in order to provide comforts to all staffs and visitors by reducing the heat and glare transmitting to the premise. The other reason why the client prefers to tint the windows rather than installing blinds or other material is because it could maintain elegance of the appearance and comforts to staff and visitors.
Project Name : Wisma Hong Leong Property Management
Original Glass Type : Clear Glass
Film Installed : Armocoat 4 mil Clear
Site : Kuala Lumpur
Installation Purpose : 
Being one of the top banker and customer service oriented management at Malaysia, safety and comfort of customers and employees are their top priorities. Hence, safety film armorcoat 4 mil was recommended. 
Comment :
With the application of Armocoat 4 mil which provide solar control performance while offering protection from flaying glass due to break-ins, Vandalism etc, customers and employees safety and comfort are sheltered. Hence, another satisfied customer.
Ready to Install?, Find a Pro!